This version is approved.
Above The Fold

"Above the fold" is a term used to describe the area of a web page, which is visible to the user at first glance, without having to scroll. If you scroll down, you will see the area considered to be "below the fold." The term "fold" originated from the printing industry and is a precisely folded edge of paper, also called fold line, used in the preparation for printing. If you apply this term to web design and online marketing, the fold line would be the bottom visible edge of the browser without scrolling.
Special features
In terms of conversion and usability, it would be wise to place important content of a website "above the fold," in other words, in the immediately visible area, since users focus most of their attention there. That way all the important content of a page, such as navigation and info texts will be in the user's field of vision. At the same time, content which is placed "above the fold," may pull users further into the website where they will find more detailed information. As a result, the average time spent by visitors on the website can be increased and the bounce rate can be reduced.
Different types of browsers and screen resolutions have to be taken into account, since the "above the fold" area can be different for each user. In particular, mobile applications should be mentioned here. Google Analytics provides a tool that shows the visible content of a web page in different browsers and screen resolutions.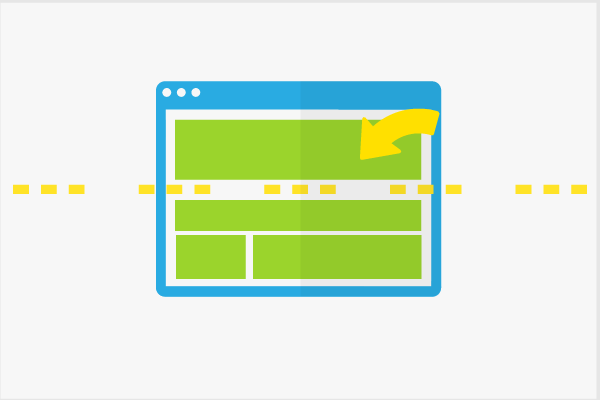 Importance for search engine optimization
A layout that sufficiently takes into account the "above the fold" section is not only user friendly, but can also be assessed positively by Google. Google's reason for this is that many banner ads, which are placed "above the fold," can negatively affect the user-friendliness of a website. Google assumes that users search for information and not advertisements. The search engine wants to prevent that the amount of banners ads "above the fold" does not exceed a certain limit. Google specifies three banners and therefore implemented a change in its algorithm to ensure that the important content of a page can be seen by Internet users "above the fold."
Some website operators design only the visible part for users. Everything below that visible area merely serves to provide enough content for search engines. The user value of this content is rather limited.
A Google algorithm change was implemented in January 2012, which penalized websites with too many banner ads "above the fold" ("Top Heavy"). If there were too many banner ads placed at the top, the page may slip down in the index. This was followed by another adjustment of this update ("Top Heavy 2") in October 2012. From Google's point of view, it is not advisable to place the actual content of the page below the fold. It worsens the user experience. It can affect a website negatively if too many Google AdSense links or too much advertising is placed in the visible area of the page. As far as placement of banner ads in the area that is visible without scrolling, "less is more."
Web Links
Category