In search engine optimization (SEO) terminology, black hat SEO refers to a type of SEO tactic. It usually does not obey search engines guidelines. The term black hat comes from Western movies. The cowboy villains wore black hats in a duel. The hero, on the other hand wore a white one. Thus, also the term white hat SEO.
General
In black hat SEO, spam methods are used. These are far-reaching and can involve using techniques such as link farms or text hiding and even more aggressive methods are used. An example would be automated linking. The aim is to install many links on different pages through automated software programs. These usually do not contain any real content but meaningless, automatically generated text. An increase in link popularity is hoped to be gained from this.
The Xrumer software can be used as a black hat SEO spam method. You are automatically registered in forums to install automated posts there. This, too, serves primarily to improve link popularity. Similarly, links are obtained through specific purchases of expired domains or by building a satellite domain network. Article spinning is likewise a black hat method. Some website operators use these tactics, which are banned by Google, to battle the competition and to banish their websites deliberately from the search engine index.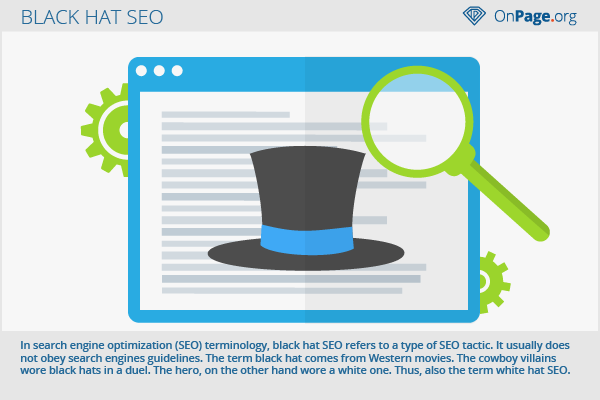 Pros and Cons
A benefit of black hat SEO is website operators can reach high link popularity in a short amount of time and achieve large profits. Many webmasters make use of it, because it takes some time for search engines to recognize spam. Penalties or banishment from the Google index may be the result of the use of black hat SEO.
Problems with users
Website operators who use black hat SEO usually anticipate they will be penalized and plan on it specifically. Google penalizes a certain number of sites so website operators utilize this information and put more websites with the same or similar content online. As a result, there is a greater chance that one or more websites remain or are excluded from the index at a later date.
How Google fights spam
Google continuously tries to fight such unauthorized methods through the Panda update for example. The Panda update was aimed at developing an algorithm that was designed to find duplicate or copied content. Action was also supposed to be taken against websites that operate link spamming. This was followed by Google's Penguin update, which was to strengthen the algorithm against web spam even further. The goal was to more easily find spam techniques and nip them in the bud.
White hat SEO and black hat SEO combined
Due to the numerous provisions in the Google webmaster guidelines, it is difficult for website operators to act completely free of violations. Any attempt to build links for an improvement in rankings or the attempted increase of link popularity is already considered cheating. In order to allow website operators an additional margin, there are gradations in the degree of the offense. This lead to the emergence of a middle ground, constituting neither a totally legitimate search engine optimization, but also not a violation of the guidelines. This transitory region is described with the concept of grey hat SEO. Most websites of the SEO industry fall within this range.