This version is approved.
Customer Centricity

Customer centricity is a sales and marketing concept that places customers and not the product at the center of interest.[1] Customer centricity defines the value chain as beginning with the customer. The expectations, needs, and wishes of the customer form the starting point of marketing campaigns.
However, customer centricity is more than just a service or a sales channel. It is corporate culture, strategy, and philosophy in one. The concept covers all areas of a company and requires concessions from all employees, from management, through the various departments, to sales and service staff. It also includes a Multichannel Strategy so that potential customers can reach the company through any channel.[2]
Main elements of customer centricity
This holistic approach is extremely complex and cannot be easily implemented. Changes will be required at all levels of a company.[3] Customer Centricity is not new as a concept. The statement "the customer is king" basically expresses the same guiding idea. New aspects are mainly the focus on new media and the opportunities offered by these technologies to create a positive Customer Journey.
A company that works in a customer-oriented manner generates added value for its customers in different forms, depending on the point where a customer is at in the Conversion Funnel. New customers will first be provided with initial date on the company or product. This has already been done with regular customers. The latter allows an even more personal relationship between its customers and the company. Using big data, buyer personas can be created to positively influence customer relations. The company must not lose sight of the fact that customer orientation should also be communicated transparently and effectively externally.[4]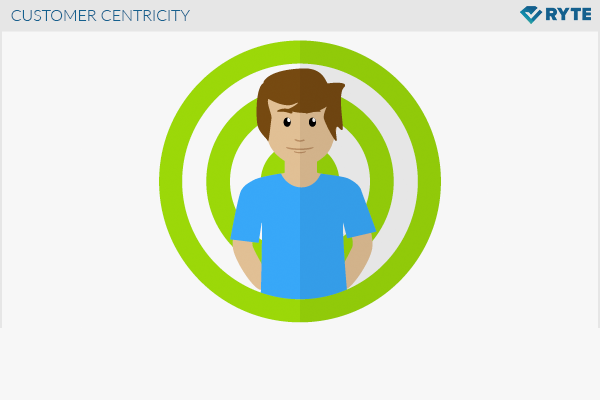 Customer empowerment
The customer is not only king, but also a powerful influencer. If a customer has had a positive experience with a company, they might recommend the company in social media. Perhaps they may provide a rating or review on the product and that way communicate to other customers that they are satisfied with the product. Customers not only give feedback, but also use it for their own purchase decisions. Customers use forums and communities to inform themselves about products and companies and thus gets a well-founded first impression. The term Customer Empowerment precisely describes this development. Customers are more than just buyers of a product - they also determine the success and failure of the company.[5] The customer can therefore influence the fate of the company.
Customer centric company
However, customer empowerment this is only possible if the company provides an appropriate environment. The main goal of customer centricity is to make the purchase of products a positive and comfortable experience. Appropriate technical solutions are therefore indispensable.
An important side-effect is the fact that companies distinguish themselves from other companies by focusing on the customer and present themselves as market supporters who pursue their own strategy. Customer centricity can also be understood as a Unique Selling Point (USP) when the customer journey and experience are unique. Customer orientation must accompany all actions of all members of the company.[6]
Customer centricity at the point of sale
The positive shopping experience can also take place at the point of sale and be implemented with so called 'Loyalty Programs'. Customers want to feel comfortable, be directly addressed and perceive the company as trustworthy and credible. Tailor-made products and product packages are a way to meet customer needs. In the retail trade, this can sometimes be achieved through a personal approach and a credible appearance. For example, in a large coffee shop chain, customers are approached by their first names when they enter the shop and order coffee. Various factors are involved in e-commerce, for example, User Centered Design, high level of usability, Inbound Marketing and a multichannel approach.
Customer centricity and post-sale
The experiences that customers have with a company also determine their later buying behavior. Long-term efforts become apparent post-sale. How does a company deal with customers who have already purchased products? It is a well-known fact that it is takes less investment to keep regular customers than to generate new ones. This is why customer centricity is not only about first-time purchases, but also about long-term customer relationships, which can possibly last a whole customer life.
Importance for online marketing
By introducing the approach of customer centricity, a company changes its basic concept, which affects online activities as well as other marketing areas. At best, the corporate culture changes as a whole. This results in new perspectives for Online Marketing. All activities begin with a look at the customers and their needs. Online surveys, customer feedback or a blogger's expert opinion can be valuable input for online marketing, and at the same time increase the interaction with the company.[7]
This approach, together with inbound marketing, can result in synergistic effects. If Content Marketing includes the wishes of the customers, it will be able to generate a high degree of leads which would not have been possible with other marketing methods. Companies that consistently pursue customer centricity, report far higher performance levels compared to traditional marketing campaigns because they anticipate the needs of customers with this approach and inbound marketing and offer them more specific solutions. In principle, the size of the company is irrelevant for efficient customer centricity.
References
Web Links
Category