This version is approved.
Facebook Fanpage

A Facebook fan page is a kind of mini website within Facebook, which is generated by selecting a Facebook category for organizations, companies or artists in order to be able to get in touch with customers or fans.
Demarcation of Facebook profile
The Facebook fan page is clearly separate from a Facebook profile. A regular Facebook profile is usually for an individual who has to register under a real name. A fan page however, can be created for anything that individuals are not able to befriend in the traditional sense, because they are either objects or because the fan page is supposed to represent an entire organization, a company, an artist or a band. To create a Facebook page, the creator, however, must have a Facebook profile. This is then entered as the administrator.
Features
The Facebook fan page is initially operated similar to a personal profile. Administrators can update their status and get in contact with their fans. Each status update appears in the timeline of the fans, who have added the fan page to their interest list. This makes an interactive exchange between companies or organizations and the respective followers possible. Moreover, pictures and videos can be posted, links can be shared or questions can be directed to the fans. Additionally, the operators of a fan page can get different statistics about the page, for example:
Development of "Likes"
Range
Visits
Posts
User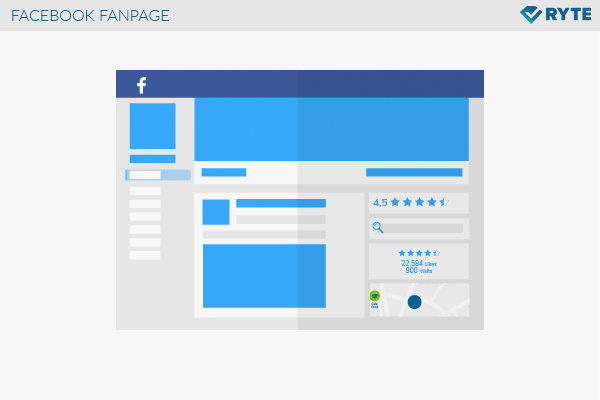 If you have booked advertisements to promote your Facebook fan page, you can also filter all these statistics into organic and paid results, to test the success of your ads.
Legal notice obligation
The District Court Aschaffenburg decided with its judgment of September 19, 2011, that even Facebook fan pages must have a valid legal notice. This was able to be realized initially under a separate tab on the fan page entitled "Contacts" or with a direct link to the legal notice of the regular website. It quickly turned out, however, that these solutions did not lead to the desired success for mobile devices because they were not displayed.
Since Facebook introduced the chronicle, it has been recommended to integrate the legal notice as a link directly in the info area. This will also make it available on mobile devices.
Pros and cons of Facebook Fan pages
Facebook fan pages can have a positive impact for companies and organizations in many ways:
Faster and more direct start without technical hurdles
Initially no financial investment required
Direct addressing of the target groups
Viral spreading of the company's message
Depending on the objective, a possibility of increasing sales or new business
Building trust
High coverage - country and worldwide
Direct feedback from the target audience to new developments and news
Traffic inlet to the company's website, a blog or an online shop
Comprehensive analysis options and statistics
Increase of brand awareness
Very short reaction times for events of public interest
Additional expansion through applications
High degree of individualization of Facebook fan pages
A disadvantage of a Facebook page is that it requires a great deal of time. Setting up the page is straight forward, but the generation of content and interaction with the fans is rather time-consuming. Many entrepreneurs fail at this task; orphaned fan pages remain that give a totally false impression. Since users can respond on the fan page, there is a risk that, for example, dissatisfied customers take the opportunity to exercise free rein with their anger. Depending on how serious the problem is, this may even end up in a "shitstorm," similar to what happened to Dell, O2, ING DiBa or Schlecker. To protect the company's image, therefore, it is usually wise to regularly check the contents of the fan page and to respond appropriately.
Importance for search engine optimization
In the context of search engine optimization, Facebook fan pages are significant in two respects. For one, we speak today of "social SEO," when it comes to the influence of Facebook & Co. on the ranking of a website. Social signals could potentially have a positive effect on ranking, for example, likes and interactions on Facebook fan pages.
Although Matt Cutts has already rejected this view several times in the past (for example in this video on the issue "Does Google use data from social sites in ranking?" or in this YouTube video from the SMX Advanced 2012 "Links vs. Social Signals"), many search engine optimizers still hope for a positive impact from social media.
Secondly, search engine optimization is also relevant to Facebook fan pages because these can be optimized too. For this purpose, the main keywords relevant to your ranking, can be incorporated in the title of the page, in the notification area and in other tabs. Furthermore, regular status updates must be made that stimulate the interaction with the fans. To optimize a Facebook fan page, classic link building can be undertaken.
Category