This version is approved.
Mobile Commerce

Mobile commerce is part of e-commerce which takes place exclusively via mobile devices such as smartphones or tablets. In addition to the purchase and sale of goods and services, this form of internet trading also includes payment via smartphone and tablet (mobile payment). In addition, M-Commerce also transfers ownership and usage rights and initiates business transactions.
Development
Since the Internet has made enormous progress in e-commerce over the last few decades and web-based commerce in some EU countries already accounts for almost one-third of total trade, mobile commerce is also experiencing an enormous development due to various causes.
More and more people are using internet-enabled smartphones to surf the Internet and more and more online shops and service providers are creating the technical basis to make shopping or booking with smartphones and tablets easier. Search engine companies such as Google have also recognized the signs and are encouraging webmasters to optimize their sites for mobile devices and exploit the potential of mobile advertising.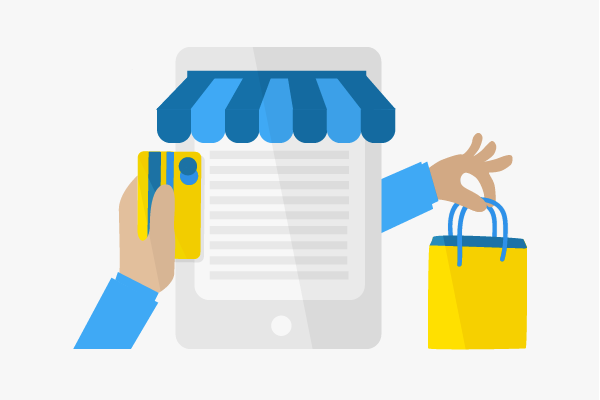 Requirements
For mobile commerce to work, the device must be connected to the Internet or logged into the mobile network. Therefore, a stable and powerful Internet connection is required, either via the mobile network or via WLAN. The mobile communication standards GPRS, EDGE, UMTS, HSPA and LTE are sufficient for mobile commerce.
At the same time, the infrastructure of websites or other web services has to be geared to mobile use – mobile optimization has become an integral part of search engine optimization.
Components
Mobile Commerce consists of various individual components:
Mobile advertising:
This component of e-commerce comprises all advertising measures used for the purchase of a product or service. This also includes SMS marketing as well as banner and text advertising, which can be realized and controlled with programs such as Google AdWords.
Mobile Payment:
This involves payment via smartphone or tablet, which is used for both stationary and mobile online shopping.
Bookings and reservations:
In this case, the mobile phone or smartphone is used to book an event or service. It is also used for authentication, e. g. for electronic airline tickets.
Mobile Banking:
Bank transactions are authorized and processed via the mobile phone via mTan.
SMS payment services:
Payments can be made or subscriptions can be booked via SMS.
Mobile Apps:
This allows customers to pay for the services and make use of them. In addition, apps are also used to initiate purchases.
Category