WordPress is the world's leading blogging software, and is particularly user-friendly and adaptable. With WordPress, it is possible to successfully create websites with the aid of already predefined functions, without much effort, and to provide content such as text, picture and video. HTML knowledge is not required. WordPress also makes it easy to manage and maintain extensive content.
In addition to its easy handling, free access to the system contributes to its popularity. The included functions can be expanded with numerous plugins and adapted to the user. Blog Marketing can be operated successfully with WordPress as well.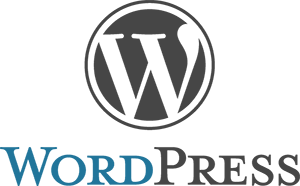 WordPress Logo (Quelle: wordpress.org)
How it works
In WordPress, blogs get created according to the modular principle. The dashboard in the admin area is used to edit webpages. It includes premade function buttons for designing a WordPress blog. This is also where content is managed. Your authored articles can be sorted by freely definable categories and keywords, thus facilitating finding it. If an article refers to statements from another article, a Trackback can be inserted, which automatically informs the author of the other article. When publishing an article, the administrator is free to choose whether to allow comments from blog visitors or not. Comments and unwanted links can be removed as required.
Development of WordPress
On the occasion of its 10th anniversary, WordPress 2013 published an Infographic, which showed various figures on the development of WordPress (as of May 27, 2013):
66,130,651 installations worldwide
25,045 plugins available
1,780 free themes
66 percent market share in the CMS area
15 percent of all websites are based on WordPress
Further interesting information is provided by an infographic from elegantthemes.com:[1]
69 percent of users use WordPress alone as a CMS
46 million downloads in 2013 (equivalent to 126,000 downloads per day)
6,758 new plugins in 2013
336 new themes in 2013
Themes
WordPress saves content such as text and comments, regardless of its design. Thus, design changes can be made without changing the contents. Numerous free and paid design templates (WordPress templates) are offered, enabling you to give individual character to your content. These "WordPress Themes" can also be changed or created manually. WordPress uses its own program. PHP programming skills are not required.
Plugins
Like the WordPress blog system itself, the corresponding plugins are also made available free of charge. Two types of plugins are available to expand the functionality, whereby the first type is suitable for inexperienced users.
You have to upload plugins with a ZIP file in the administration area via the tab "Plugin." Unpacking and setting up the new function is automatic and does not require any further settings on the User Interface.
If this method does not bring about the desired result, it can also be installed independently. In this case, the file with the plugin is first unpacked manually and then uploaded. The use of a suitable FTP software is recommended to handle the access rights settings. After activating the plugin via the corresponding button, the function should now be available. Numerous SEO plugins are offered for WordPress such as at Yoast.
Benefits
Cost savings in the IT sector, because both the creation and maintenance of a website are particularly cost-intensive.
During the creation of a text the content appears in the index of the search engines. As a result, the blog system contributes to search engine optimization.
The software enjoys a huge user community. Many forums provide help with problems. This assistance is usually fast and the solutions are quite qualified.
Positioning and design of posts can be flexible in terms of time because the content is automatically and chronologically archived after creation. Publication is either done manually or time-controlled.
Alternatives to WordPress
Apart from WordPress there are a lot of other Content Management System, which can be considered alternatives. Important competitors of WordPress are Drupal and Joomla, which also take up a large part of the market with 9 and 10 percent. Other notable alternatives include:
Textpattern
Contao CMS
Web to date
PmWiki
LifeType
Serendipity
XAMPP
References
↑ WordPress Infographic 2013 – A Visual Representation of Matt's "State of the Word". elegantthemes.com. Accessed on 06/12/2014
Web Links