Organic search refers to the search results of a search engine that cannot be influenced by paid advertising. Organic search results are ranked according to their relevance to the search term. Organic search results therefore do not include adverts, but can include search snippets such as maps, images, articles or the knowledge graph.
Definition
Organic search comprises all those search results that are produced by search engines' individual algorithm. This algorithm is determined by the operator of the search engine, and can vary from one provider to the other. Therefore, the search result pages from Google, Bing or Yahoo are not necessarily the same for a given search term. Organic search differs from paid search in that the position for paid search is only determined by how much the advertiser is willing to pay for it.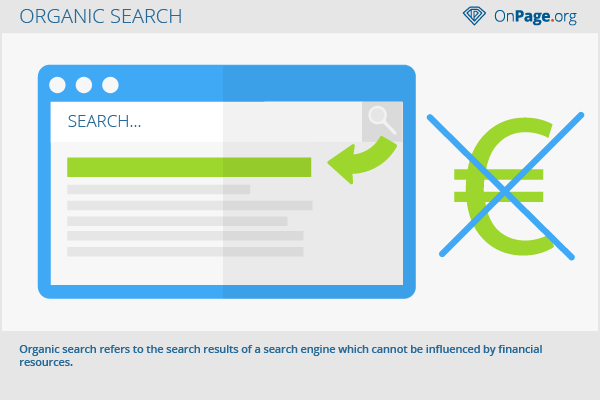 Influencing one's position in the organic search
One of the goals of SEO is to influence the position of a website in the search result pages of search engines. However, this requires a lot of patience and work, and for organic search, there is no guarantee that a website or web page will rank in a top position. According to a study by the Moz.com blog, cost per project can range between 1000 to 7500 US dollars per website. SEO agencies charge 76 to 200 US dollars per hour.[1] However, the effort is worthwhile in many cases. Google Analytics expert Avinash Kaushik once determined that around 86 percent of search engine users prefer organic search results.[2] With a top ranking in the search result pages, website operators can therefore achieve significantly more traffic than with paid ads, for example with a Google AdWords campaign.
If one were to attempt to obtain the same number of hits with the paid search, the costs would be many times higher than for optimization of the organic search. The cost per click for SEO is generally much lower than for paid ads.
Ranking factors
There are a variety of factors that can influence rankings. These include:
Internal and external link structure
Backlink structure
Technical factors (such as length of URLs, load times)
Quality and structure of content
Enhancement through media such as videos and images
https-encryption
All available methods for optimization of rankings in organic search can be roughly divided into two areas: On-page optimization and Off-page optimization. On-page optimization revolves around adjustments that can be made to your website. This may affect the content, internal link structure, navigation or the loading speed. For off-page optimization, elements outside the website itself are optimized, such as through targeted link building or activities in social media channels.
Importance for search engine optimization
Organic search is at the focus of all efforts in SEO. Achieving this goal is becoming increasingly difficult in the face of strong competition. Moreover, Google changes its own algorithms regularly, so that search engine optimizers must respond quickly in order to retain ranking positions that were previously achieved in the organic search. Sometimes it is even necessary to reverse earlier SEO measures to avoid penalties. An example for this is the so-called "link removal" which was prevalent in the period right after the Google Penguin update in April 2012. Many webmasters then had to submit reconsideration requests to have the penalty lifted.
Due to the increased enrichment of organic search results with images, the Knowledge Graph and the orientation of the search query, it is also more difficult for webmasters to achieve top results in the search result pages. The distribution of paid ads varies widely, but depending on the keyword or search query, it is possible that the first four search results are paid ads, meaning that even with a top ranking for the organic search, the website might only appear half way down the page. Therefore, for industries or keywords with a lot of competition in the SERPs, it can make sense to conduct a Google AdWords campaign to ensure visibility for certain keywords.
There are marketing approaches that criticize a too strong fixation on organic search, especially in the e-commerce sector. This criticism refers mainly to the increased concentration on and thus the strong dependence on Google as the leading search engine. Of course there are some alternatives to Google for selling or promoting products online, such as the shopping portals Amazon or ebay. Many consumers search directly for products on these portals and do not use Google at all.
References
↑ Cost for SEO. Moz.com. Accessed on 12/13/2013
↑ AdWords vs. SEO. jm-seo.org. Accessed on 12/13/2013
Web Links