Link juice is a colloquial SEO term describing the value of backlinks to a webpage. The number and quantity of these links determine the composition of the link juice. Link juice is seen as an important factor for ranking highly in Google.
General information
While individual algorithms such as PageRank, TrustRank or Author Rank represent evaluation factors for websites and web content, link juice is a metaphor that allows multiple evaluation factors. The quality and number of inbound links and the manner in which these references are distributed on a website add up to the concept of link strength or link juice as introduced by Greg Boser. [1]
However, it is conceivable and possible that there are other criteria including content, markup, metadata or ranking in SERPs. Figuratively, you could imagine a river with branches. The main vein, a strong website, has the most link juice, the side-arms, i.e. subpages, only benefit from the link juice of the main vein. It is important to ensure a regular flow by spreading the link power and internal linking.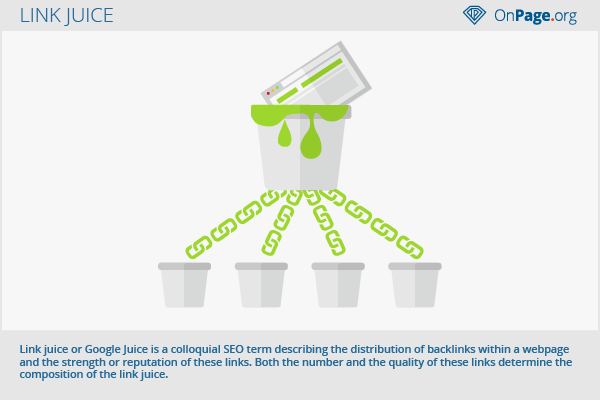 Practical relevance
In many cases, it is recommended to control the distribution of link strength and the river if there are a lot of subpages. In practice, subpages such as Terms and Conditions or a contact page can be modified so that they get no link juice from the main page. Some subpages are not intended to be accessible and pages with a lot of link juice should not be passing it on. Therefore, an attempt was made some years ago to use the nofollow attribute to exclude certain pages. The result was that PageRank Sculpting became a practice.
It attempted to control link juice by using the nofollow attribute that was actually intended as an anti-spam measure. That's why Google changed the rules in 2009. Now nofollow links are taken into account in the evaluation, which meant that the link juice now had to be controlled by other methods. For example, with JavaScript, the .htaccess file, frames or robots.txt directions.
Importance for SEO
Even if link juice is an abstract concept, it says something about the structure of a website and its links to other websites. On the one hand, one should attempt to obtain the best possible links from other websites. On the other hand, your own page structure should have optimal usability. What at first appears to benefit only users, comes into play when that user is a user agent, i.e. a crawler or bot, which parses the full page. Search engines recognize the structure of a page and evaluate the quality of links. Since link juice takes into account those and other aspects, it is an effective means of optimizing a website.
References
↑ What is Link Juice?. Wisegeek. Accessed on 01/16/2014
Web Links